VILLA SPINOSA IN DENMARK ON FRIDAY JANUARY 20th
On Friday, January 20th 2017, Villa Spinosa will be welcomed to Denmark for the Gambero Rosso Wine Tour.
January 17th, 2017
The Gambero Rosso Wine Tour will make a stop on Friday, January 20th, in Copenhagen and Villa Spinosa will attend the scheduled tasting with the Amarone della Valpolicella Classico DOC 2008, awarded 'Tre Bicchieri 2017'
In the evening we will join our friend Mikael Lyng to his wine shop for a dinner and a vertical tasting of all the Villa Spinosa's wines.
This is a great opportunity for Villa Spinosa to be back to this country in Northern Europe, an important market for our wines, and above all it's a fantastic chance to meet new wine lovers and see the many Danish friends who visited us this summer, stopping by the "Enoteca in Tinaia ", the wine shop of Villa Spinosa.
There are further appointments of the Gambero Rosso 2017 Wine Tour that Villa Spinosa will attend this year: we will bring a piece of Valpolicella to Munich, New York and London.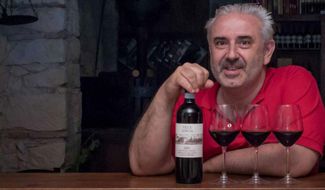 Please email us
to arrange a visit to Villa Spinosa.

We will let you know
all our proposals
for tours and tastings
in our company.