A taste of Valpolicella: wines at 0 km
The tour starts in the wine shop "Enoteca in Tinaia" watching a short video about Villa Spinosa, before taking a walk outside to the small belvedere at the edge of the Italian style garden where guests can enjoy a panoramic view of the estate from our Jago Cru vineyard to the drying lofts and the cellars listening to the story of Villa Spinosa's winery.
TOUR DETAILS:
Tour title:

A TASTE OF VALPOLICELLA: WINES AT 0 KM

Ideal recipients:

the tour is ideal for people whith short time available and willing to discover the Valpolicella and its wines

Season:

all year round, only on reservation.

Minimum number of partecipants:

6 persons.

Wines:

together with the tour we offer a tasting of two wines: Valpolicella Classico DOC and "Figari" Valpolicella Classico Superiore DOC.

Price:

Euro 12,00 per person.

Customization:

tour available in English or German.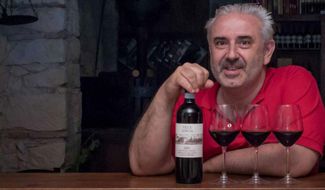 Please email us
to arrange a visit to Villa Spinosa.

We will let you know
all our proposals
for tours and tastings
in our company.