Discover our Cru vineyards: Jago, Figari and Costa del Buso
It is our pleasure to welcome you to Villa Spinosa, let you visit Jago and Figari Cru vineyards and taste the two wines produced with the grapes grown in there.
Jago Cru vineyard is close to the cellars and guests can see it from the garden sorrounding the villa; Figari Cru vineyard is located on the other slope of Colle Masua hill, on the road to the valley of Marano di Valpolicella.
Back to the winery, the tour ends up with the tasting of the two single vineyard wines, "Jago" Valpolicella Ripasso and "Figari" Valpolicella Superiore.
TOUR DETAILS:
Tour title:

DISCOVER OUR CRU VINEYARDS: JAGO, FIGARI AND COSTA DEL BUSO

Ideal recipients:

the tour is ideal for those looking to stay in contact with nature and stroll through the vineyards, discovering the differences of a territory and its wine from one another.

Duration:

1 and a half hours.

Season:

all year round, only on reservation.

Minimum number of partecipants:

6 persons.

Wines:

together with the tour we offer a tasting of three wines: Valpolicella Classico DOC, "Figari" Valpolicella Classico Superiore DOC and "Jago" Valpolicella Ripasso Classico Superiore DOC (Tre Bicchieri - Gambero Rosso).

Price:

Euro 15,00 per person.

Customization:

tour available in English or German.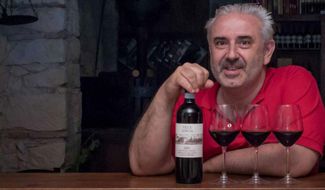 Please email us
to arrange a visit to Villa Spinosa.

We will let you know
all our proposals
for tours and tastings
in our company.