AIS CELEBRATES OUR AMARONE 2015
The Italian Sommelier Association in Verona has reviewed our Amarone 2015, recently proposed at the Anteprima Amarone 2019, very well.
February 11th, 2019
Also the Italian Sommelier Association enhances the Amarone della Valpolicella Classico DOCG 2015, we proposed at the Anteprima Amarone 2019 early last February at the Gran Guardia in Verona.
Fabio Poli of the AIS section of Verona has enlisted the Amarone of Villa Spinosa among the best 12 from all the 68 Amarone proposed for tasting.
Poli describes our Amarone 2015 "between a garnet and ruby red, with elegant balsamic and floral sensations, notes of rose petals and violet, spices, licorice and aromatic herbs, thyme." He concludes by enhancing the freshness of this wine in the mouth.
This is another important rating that rewards the work done in the vineyard and in the cellar by our boys.
Let's meet now at our Wine Shop "Enoteca in Tinaia" in Jago di Negrar to taste it together.
Testo we qwerj qèweo rjqèwoi rjeqèwe riqèweir jqèw rjqèw rjqèwoi rjeqèw rjeèqwoi rejèwoi rjqèwoi rjeèqoiwrejqèwoi rjeqèwrjqèw reijqèwrjeqè eiwèqwoirje èqwrjeqwerqwreqwer
Testo qwerj qweirjqèw rjqèwe ijqèwer jèqwoi rjqèwoi rejèqw rjèqw rjiqèw rjqèwoi rjqèwoi rjeqèwoi rjqw rjqèwoe rjqèw rjqèwreièqwrjqèwe rqèw rjqèwoirjqèwrjqw eiqèwreiqèwoireqèiwrjeqwire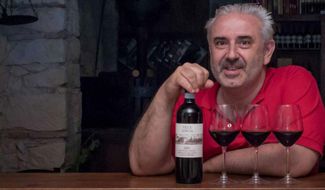 Please email us
to arrange a visit to Villa Spinosa.

We will let you know
all our proposals
for tours and tastings
in our company.