'ANTEPRIMA AMARONE' 2018: VILLA SPINOSA AMONG THE PROTAGONISTS
Journalists are impressed by the two years, 1998 and 2014
February 6th, 2018
For thefirst time Villa Spinosa attended Anteprima Amarone, the 50th anniversaryedition, from February 3rd to 5th February, at the Palazzo della Gran Guardiain Verona.
Two vintages of Amarone, entering the market in 2018, have been presented there.
Amarone 'Guglielmi di Jago' 1998- now 20 years, on sale after a very long aging, 1 year in tonneaux and 17 in Slavonian oak barrels, and Amarone 'Etichetta Rossa' 2014, a challenge against the difficult climatic conditions which characterized that year.
Both wines were positively reviewed by the press taking part at the tastings arranged during those days, thus confirming the good work of Villa Spinosa, willing to enhance the tradition and the territory in the glass.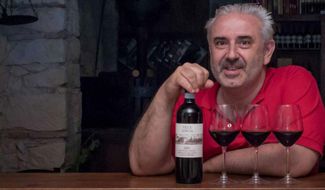 Please email us
to arrange a visit to Villa Spinosa.

We will let you know
all our proposals
for tours and tastings
in our company.