FROM MARCO POLO TO JAGO
China discovering the world of Villa Spinosa
June 19th, 2017
On Thursday, June 16, Villa Spinosa welcomed a Chinese delegation of tour operators visiting Italy.
Chinese guests were told about our winery and Villa Spinosa's wine philosophy directly by Enrico Cascella Spinosa who presented the Valpolicella and its wines.
The guided tour began with a stroll through the Italian style garden surrounding the Villa, and the Jago vineyards. They also visited the underground cellars, thus walking in the Tunnel of Jago, the new space underneath the Villa Spinosa's courtyards and the PalaJago.
They dropped by drying loft, the room that is used for the drying of grapes for Amarone in autumn/winter and for weddings and events in spring/summer.
The visit ended up in the 'Enoteca in Tinaia', the Villa Spinosa's Wine Shop, where the Chinese delegation tasted 'Jago' Valpolicella Ripasso Classico Superiore, thus discovering the special wine making process of this wine, unique technique in the world and heritage of the Valpolicella.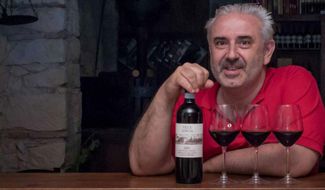 Please email us
to arrange a visit to Villa Spinosa.

We will let you know
all our proposals
for tours and tastings
in our company.