'I BORGHI DELLA VALPOLICELLA' WAITING FOR YOU AT VILLA SPINOSA
Continue the photo exhibition in Fruttaio of Villa Spinosa
August 09th, 2017
In thedrying loft of Villa Spinosa the photoexhibition 'The Villages of theValpolicella' is still open, with the photos of the Gruppo FotograficoPescantina offering us glimpses of our territory with exciting black and white pictures.
This is a trip to the Valpolicella and its villages, places rich in history telling how time went by, through the ancient fountains and the church cloisters, crossing the small streets of the "smaller villages" up to breathtaking views over the vineyards from which we get the Valpolicella wines, which are the excellence of this land, known all over the world.
The exhibition is open, with free entrance, from Monday to Friday from 10 am to 12 am / 3 pm to 5 pm.
At the end of the visit a tasting of the Valpolicella wines waits for you in our wine shop 'Enoteca in Tinaia', where you will discover Valpolicella Classico, 'Figari' Valpolicella Superiore, 'Jago' Valpolicella Ripasso, 'Albasini' Amarone Classico 2010, 'Francesca Finato Spinosa' Recioto della Valpolicella and the different vintages of 'Guglielmi di Jago'.
We look forward to welcome you in Via Jago from the 16th, 37024 Negrar in Valpolicella.
Tel. +39 045 7500093 e-mail: info@villaspinosa.it
Photogallery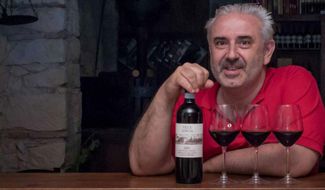 Please email us
to arrange a visit to Villa Spinosa.

We will let you know
all our proposals
for tours and tastings
in our company.