The magic of drying and the charm of aging
The best way to discover how Amarone, Recioto and Valpolicella Ripasso are produced is to take a tour among the drying lofts where the grapes are stored, the cellars where the grapes are crushed and the cellars where the new wine ages. The tour ends up in the wine shop "Enoteca in Tinaia" with the tasting of four special wines.
TOUR DETAILS:
Tour title:

THE MAGIC OF DRYING AND THE CHARM OF AGING

Ideal recipients:

the tour is ideal for visitors willing to know how unique wines are created and to see the places where they age for a long time.

Season:

all year round, only on reservation.

Minimum number of partecipants:

6 persons.

Wines:

together with the tour we offer a tasting of four wines: "Jago" Valpolicella Ripasso Classico Superiore DOC (Tre Bicchieri - Gambero Rosso),
Amarone della Valpolicella Classico DOCG, "Guglielmi di Jago 10 years" Amarone della Valpolicella Classico DOC and "Francesca Finato Spinosa" Recioto della Valpolicella Classico DOCG.

Price:

Euro 35,00 per person.

Customization:

tour available in English or German.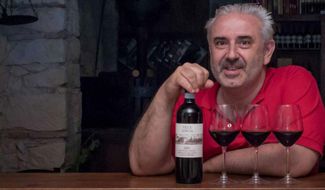 Please email us
to arrange a visit to Villa Spinosa.

We will let you know
all our proposals
for tours and tastings
in our company.