From past to modern times: the architecture at Villa Spinosa
The tour wants to tell visitors about the history and architecture of Villa Spinosa's estate, where old and new buildings stand in harmony and are very characteristic for the territory.
After an introduction about the time when the houses were built, such as the 19th century villa, the drying lofts and the cellars, guests take a walk in the garden listening to its typical Italian style concepts. They finally end up in the cellars, visiting the old ageing cellars as well the new underground tunnel. Before finishing with a tasting in the wine shop, people stop by at the PalaJago, the new drying loft for the grapes of Amarone and Recioto.
TOUR DETAILS:
Tour title:

FROM PAST TO MODERN TIMES: THE ARCHITECTURE AT VILLA SPINOSA

Ideal recipients:

the tour is ideal for visitors who love history and architecture and want to know about the typical rural cottages from the old to the very new modern ones.

Duration:

1 and a half hours.

Season:

all year round, only on reservation.

Minimum number of partecipants:

6 persons.

Wines:

together with the tour we offer a tasting of three wines: "Jago" Valpolicella Ripasso Classico Superiore DOC (Tre Bicchieri - Gambero Rosso),
Amarone della Valpolicella Classico DOCG and "Francesca Finato Spinosa" Recioto della Valpolicella Classico DOCG.

Price:

Euro 20,00 per person.

Customization:

tour available in English or German.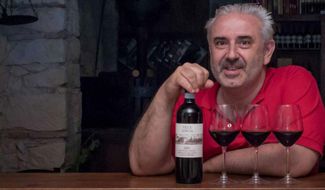 Please email us
to arrange a visit to Villa Spinosa.

We will let you know
all our proposals
for tours and tastings
in our company.