VILLA SPINOSA AT "ANTEPRIMA AMARONE"
Guglielmi di Jago - 20 years Amarone vintage 1998 and Amarone 2014
February 2th, 2018
Return to Verona on February 3, 5, at the Palazzo della Gran Guardia, "Anteprima Amarone"
by the Valpolicella Wine Protection Consortium,
one of the most important events dedicated to Amarone.
A special edition dedicated to the anniversary of the 50th anniversary of the establishment of the Valpolicella denomination.
Villa Spinosa, with cellars and vineyards owned by Negrar and Marano di Valpolicella, in the heart of the Valpolicella Classica,
presents two Amarone (which represent the synthesis and philosophy of the proprivini).
The "new" Amarone della Valpolicella Classico DOC "Guglielmi di Jago - 20 years", vintage 1998, makes its official debut
wine that after a long aging in wood now goes on sale, 20 years after the harvest!
"The secret of its longevity, has almost half the years of the denomination, - says Enrico Cascella Spinosa -
it is enclosed in the soil and in the microclimate that play a decisive role in the composition of the taste,
of the structure and longevity of the wine, but above all in the careful refining in the cellar.
A limited production of 1309 numbered bottles that goes alongside the other two Amarone of the Guglielmi di Jago line of 10 or 15 years. "
At Preview Amarone, Villa Spinosa also offers another debut: the 2014 vintage of Amarone della Valpolicella Classico DOCG.
A wine to show that, despite the difficulties of 2014 and the climatic trend, initially defined unfavorable, it was possible to produce.
Grapes selected with great care and attention and above all strong reduction in quantity withering
they allowed us to focus our attention only on this Amarone,
in a harvest in which we have not produced Amarone "Albasini" and "Guglielmi di Jago".
"It will be a pleasure to be present at the event to personally illustrate the features and the
peculiarity of our Amarone wines - concludes Enrico - wines that in the long run give us great satisfaction ".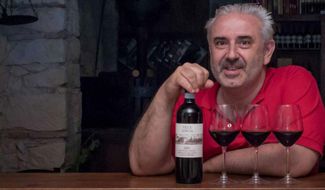 Please email us
to arrange a visit to Villa Spinosa.

We will let you know
all our proposals
for tours and tastings
in our company.