VILLA SPINOSA IN MAGGIORE SQUARE: THE VALPOLICELLA IN BOLOGNA
On Thursday March 7th at 20:00 o'clock at the Signorvino's store in Bologna for dinner with the Villa Spinosa's wines.
March 07th, 2019
On Thursday, March 7th at 8:00 pm Villa Spinosa and its wines will be protagonists of the tasting dinner, arranged by Signorvino Bologna at their store in Piazza Maggiore. A proposal of the Villa Spinosa's wines is planned: Enrico Cascella Spionosa, who runs the company from Jago di Negrar, will be there o present the winery, the wine philosophy, the projects and the wines.
For any further information: bologna.maggiore@signorvino.it
Let's meet there!
Testo we qwerj qèweo rjqèwoi rjeqèwe riqèweir jqèw rjqèw rjqèwoi rjeqèw rjeèqwoi rejèwoi rjqèwoi rjeèqoiwrejqèwoi rjeqèwrjqèw reijqèwrjeqè eiwèqwoirje èqwrjeqwerqwreqwer
Testo qwerj qweirjqèw rjqèwe ijqèwer jèqwoi rjqèwoi rejèqw rjèqw rjiqèw rjqèwoi rjqèwoi rjeqèwoi rjqw rjqèwoe rjqèw rjqèwreièqwrjqèwe rqèw rjqèwoirjqèwrjqw eiqèwreiqèwoireqèiwrjeqwire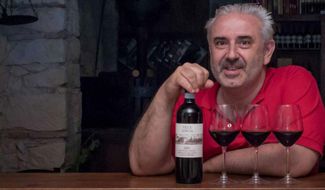 Please email us
to arrange a visit to Villa Spinosa.

We will let you know
all our proposals
for tours and tastings
in our company.